Set yourself up for 10,000 tomorrows.
It's OK to start small and still dream big
Sure, saving money can be hard. So maybe start with just a few dollars. Then add a few more. Let your bottom line grow and your imagination wander. Before long, you'll have dozens of ideas for using all that cash to make your future brighter, your family happier and everyone's life a little easier.



Kasasa Saver
Free account that builds your savings effortlessly
Links to free

 

Kasasa Cash®

 

or

 

Kasasa Cash Back®

 

checking
Automatic transfers of Kasasa Cash or Kasasa Cash Back earnings
1.25% APY* on daily balances up to $50,000
.25% APY on daily balances over $50,000
1.25% to 0.58% APY on balances over $50,000 depending on balance in account*

No monthly maintenance fees
No minimum balance to earn rewards
UNLOCK YOUR REWARDS WITH BANKING BASICS
Qualifying for your Kasasa Cash or Kasasa Cash Back rewards automatically qualifies you for the highest Kasasa Saver rate, too. Enrollments must be in place and all of the following transactions and activities must post and settle to your Kasasa Cash or Kasasa Cash Back account during each Monthly Qualification Cycle:
At least 12 debit card purchases
Be enrolled in and log into online banking
You've got this. Even if you don't meet your qualifications during the cycle, your Kasasa accounts are still free. And you'll still earn our base rate on Kasasa Saver. Then you can get right back to earning your full rewards the very next month.
Qualification Information: Account transactions and activities may take one or more days to post and settle to the account and all must do so during the Monthly Qualification Cycle in order to qualify for the account's rewards. "Monthly Qualification Cycle" means the current statement cycle. See our website at www.fnb-bank.com or contact one of our branch service representatives for specific Monthly Qualification Cycle dates. Reward Information: When your linked Kasasa Cash, Kasasa Cash Back or Kasasa Tunes account qualifications are met during a Monthly Qualification Cycle, daily balances up to and including $50,000 in your Kasasa Saver account earn an APY of 1.25% and daily balances over $50,000 earn an interest rate of .25 % on the portion of the daily balance over $50,000, resulting in a range from 1.25% to .58% APY depending on the account's daily balance. When your linked Kasasa Cash, Kasasa Cash Back or Kasasa Tunes account qualifications are not met, the entire daily balance in the Kasasa Saver account earns an interest rate of .0499885453% resulting in an annual percentage yield of .05% APY. Interest will be credited to your Kasasa Saver account on the last day of the current statement cycle. APY = Annual Percentage Yield. APYs accurate as of 09/01/2020 Rates, rewards, and bonuses, if any, are variable and may change after account is opened without notice to you. No minimum balance is required to earn or receive the account's rewards. Rewards less than a penny cannot be distributed. Fees may reduce earnings. Additional Information: Account approval, conditions, qualifications, limits, timeframes, enrollments, log-ons and other requirements apply. A $20.00 minimum deposit is required to open the account. There are no recurring monthly maintenance charges or fees to open or close this account. A Kasasa Cash, Kasasa Cash Back or Kasasa Tunes account is required to have a Kasasa Saver account. A linked Kasasa Saver account is required for automatic savings. Advertised information and rewards are based on all account qualifications being met during each cycle period. Contact one of our bank service representatives for additional information, account details, restrictions, reward calculations, processing limitations, cycle dates and enrollment instructions. Member FDIC. Trademarks: Kasasa, Kasasa Cash, Kasasa Cash Back, Kasasa Tunes and Kasasa Saver are trademarks of Kasasa, Ltd., registered in the U.S.A.

Prime Savings
Yes, you can totally make that happen
Buy a bigger house or a beautiful horse. Fix a leaky roof or a broken tooth. Take a fantastic family trip, throw a fancy wedding or gear up for your golden years. With a smart savings plan, you can take on life's challenges and enjoy its many pleasures.
Earn interest on deposits of above $100
Free Online and Mobile Banking
Convenient electronic Bill Pay
Access to a nationwide network of thousands of ATMs
Avoid $5 quarterly service charge by keeping $100 minimum balance

Emerald Savings Money Market
Because more is definitely better
There are a million investment options. But some just aren't right for you. Here's one you can feel comfortable with: An account that earns generous interest without tying up your money over the long haul.
Pays higher interest than traditional savings account
Access your money easily through Online Banking, ATMs and First National Bank branches
Track your balance with free Online and Mobile Banking
No minimum deposit to earn interest
Avoid $5 monthly services charge with $5,000 minimum balance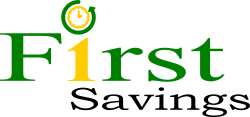 First Savings
Good things start right here
It's not kid stuff. Early on, young people should get into the habit of saving money. At FNB, we offer special accounts to help point them in the right direction.
Young people age 21 and under are eligible
Earn interest on deposits
$0 minimum balance to earn interest
No service charge
Free Online and Mobile Banking
Convenient access to nationwide network of thousands of ATMs